The History of AI project is designed to provide an interactive, educational perspective on the progress of AI by presenting portrayals of AI in science fiction and relating them to real-world AI achievements. As AI begins to become more intertwined in our lives, the hope is that this project can help convey just how far AI has progressed in the last 100+ years and what may be next.
The Content

The online content (coming soon!) is an interactive timeline showcasing AI developments over the last 100+ years. From Nikola Tesla's patent filings in the 1890s discussing machines that will have their "own mind" to the latest superhuman game-playing AIs, the content describes the path taken to reach today's capabilities. And to help inspire curiosity, familiar scenes from science fiction are included to help draw in non-AI experts... the casual observers that may find their lives impacted by AI more often than they realize.
The Exhibition
With support from Georgia Tech's Arts Council and Georgia Tech's College of Computing, an exhibition was developed to showcase highlights from the last 100+ years. You can see the exhibit in person at the Ferst Center for the Arts on campus from April 4th to April 24th.

Ferst Center for the Arts
349 Ferst Dr NW
Atlanta, GA 30332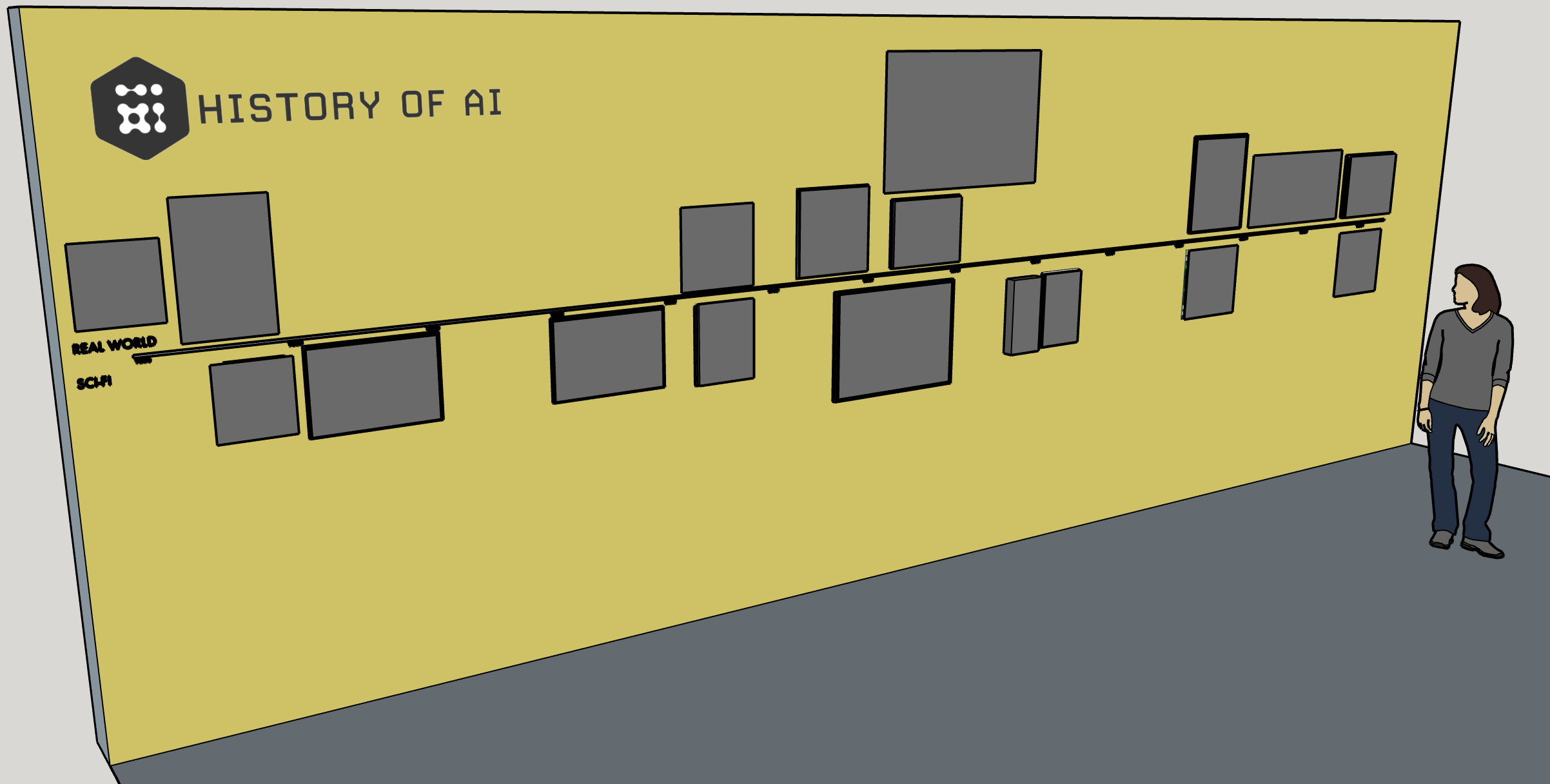 Want to contribute?
If you'd like to contribute a piece of art or have a suggestion for a piece that should be included, please send an email to info@historyof.ai
About Edwardo
I'm a computer scientist and I enjoy making things. You can connect with me @edrobot on Twitter and ed@edwardomartinez.com
Acknowledgements
I could not have completed the exhibit without the support of many people. From advice and ideas to research support, thank you for all of the contributions. — Edwardo Martinez

Thanks To:
Patricia Adler
John and Ed at Bell Labs
Chris and Dag at The Computer History Museum
Brijhette Farmer
Katy Franco
Jason Freeman
Christian Knuetter
Library of Congress - Manuscript Division
Jesse Martinez
The MIT Museum - Collections Staff
Gautam Salhotra
Lisa Sindorf
Carlene at the Smithsonian
The team at Tap Plastics (Fremont, CA)
The staff at TheShop.build (San Jose, CA)
Ray Wong
Lisa Yaszek

A Special Thanks To:
Margaret Minsky
The GT Office of the Arts
The GT College of Computing